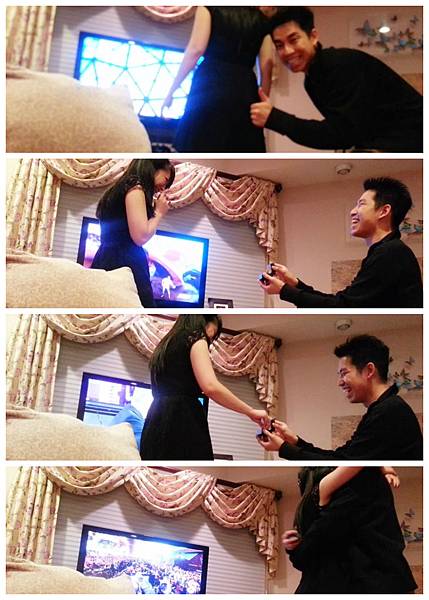 ... Well hey, it's about time!
Ever since we met we knew we wanted to stay together, so it was a matter of time for the when and the how (even though after spending 9 years together, I started to get anxious... very anxious).
In the middle of 2014, out of no where we started looking at different types of engagement rings (woo hoo). After few weeks, we finally found the perfect setting and diamond on Blue Nile (and yes I even clicked the "submit order" Holla!) Time went by, I had it in the back of my mind and was constantly on my toes looking out for a proposal. On the other hand, Evil Eric just kept saying, "Nope - when I do - you won't even see it coming. …Nope nope nope, YOU WON'T!"
Side note: Eric ISN'T the best with surprises. I ALWAYS see it coming. So I was like - whatever, yeah I will.
For New Year's Eve 2014, we decided to have a quiet relaxing night at home (which happened every year, we are too old to party all night). I knew Eric is up to no good (in a good way), because few days before he asked me about my plan for New Year's eve. I stood in front of his face and questioned "WHAT?! YOU GONNA PROPOSE?" Eric wouldn't confirm OR deny my assumption, in deed he burst out laughing! Believe it or not, I was right *insert cool emoji here* While counting down with TV crowds, Eric dropped down on one knee and opened the box to reveal my precious. We didn't even say a word to each other, we just hugged and in the back of my mind I was thinking "I was right! I knew today is the day!"